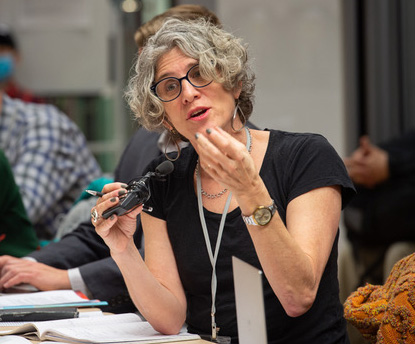 Dr. Alexandra Juhasz is Distinguished Professor of Film at Brooklyn College, CUNY. She is a core faculty member in the Interactive Technology and Pedagogy Certificate Program at the CUNY Graduate Center.
She has a Ph.D. in Cinema Studies from NYU (1991) and attended the Whitney Independent Studio program as a videomaker (1988).
Dr. Juhasz has taught at NYU, Swarthmore and Bryn Mawr Colleges, Claremont Graduate University, USC, Pitzer College, and Brooklyn College and the Graduate Center, CUNY on YouTube, media archives, activist media, documentary, and feminist film and video as well as media production, history and theory.
Dr. Juhasz writes about and makes feminist, queer, fake, and AIDS documentary. Her current work is on online feminist pedagogy, YouTube, and other more radical uses of digital media and their archives. Her work as media artist, curator, and writer engages with linked social justice commitments, including AIDS, black queer and lesbian media, feminist and queer/trans film, and activist archives and collectives.
As Professor of Media Studies at Pitzer College (1995-2016), she was the director of the Munroe Center for Social Inquiry (2014-2016), and led the Mellon funded Claremont College Digital Humanities grant.
Books :
Dr. Juhasz's first book, AIDS TV: Identity, Community and Alternative Video (Duke University Press, 1996) considers the contributions of low-end video production to political organizing and individual and community growth.
Her second book (2001) is comprised of transcribed interviews from her documentary (1998) about feminist film history, Women of Vision, with accompanying introductions (Minnesota University Press).
F is for Phony: Fake Documentary and Truth's Undoing (2006), co-edited with Jesse Lerner, is one of a handful of book-length studies of this burning issue.
Her innovative "video-book," Learning from YouTube, was published in 2011 by MIT Press.
An earlier large-scale digital effort is Media Praxis: A Radical Web-Site Integrating Theory, Practice and Politics.
Dr. Juhasz's book, Blackwell Companion to Film Studies: Documentary, presents a comprehensive collection of essays related to the world-changing projects of contemporary documentary films. Co-edited with Alisa Lebow (Cambridge, MA, Wiley-Blackwell Press, 2015).
She blogs on this and other projects at www.aljean.wordpress.com.
Forthcoming Books :
Recent Projects :
… View more Projects by Dr. Juhasz …

Narrative Feature Films :
Dr. Juhasz produced the narrative feature films, The Owls (2010) and The Watermelon Woman (1996), as well as nearly fifteen educational documentaries on feminist issues like teenage sexuality, AIDS, and sex education.
Featured Documentaries :
View Naming Prairie, Dear Gabe, and Women of Vision at snagfilms.com.
… View other Documentaries by Dr. Juhasz …
Featured Interviews :