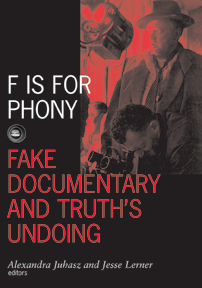 Fake Documentary and Truth's Undoing
The first sustained critique of the mockumentary.
Fake documentaries mimic documentary genre expectations, unraveling the documentary's authority and dismantling understandings of identity, history, and nation.
The interdisciplinary essays in F Is for Phony discuss a broad scope of works and explore issues raised by "fake docs" such as the fiction/ documentary divide, the ethics of reality-based manipulation, and whether documentariness derives from form or reception.
Defining the borderline between fact and fiction, the contributors reveal what fake documentaries imply and usually make explicit: that many documentaries lie to tell the truth, and that the truth is relative.
Contributors: Steve Anderson, Catherine L. Benamou, Mitchell W. Block, Luis Buñuel, Marlon Fuentes, Craig Hight, Charlie Keil, Alisa Lebow, Eve Oishi, Robert F. Reid-Pharr, Gregorio C. Rocha, Jane Roscoe, Catherine Russell, Elisabeth Subrin.
Visible Evidence Series, volume 17
25 halftones | 7 x 10 | August 2006
ISBN 0-8166-4251-6 | Paperback $20.00
ISBN 0-8166-4250-8 | Cloth $60.00
Alexandra Juhasz and Jesse Lerner, editors
Pages: 244
Published in 2006, by University of Minnesota Press
ISBN 0-8166-4251-6

Go to University of Minnesota Press

Topics: Curatorial, Editor, Organizer | Digital Production | Documentary | Highlight | Pedagogy |
---